Every year we know it's coming, yet every year winter sneaks up on us. We'll be lacing up for a sunny fall trail run and BAM: the cold hits us like a smoothie to the face.
It can be easy to use this as an excuse to retreat inside and watch another episode on Netflix, but we encourage you to be strong! Just because the mercury drops, doesn't mean you should drop your workout routine.
If the winter blahs are getting the best of you and your workout, try making a few small adjustments to get you back on track. Our pal Physio Dave Carter shares some of his top tips for keeping fit even on the darkest winter days.
Create a goal for the spring (and keep it to yourself)
Having a target run or hike to look forward to can bring meaning and purpose to your workouts. One caveat, keep the goal to yourself. It turns out when you start telling people your goals, you feel like you have already accomplished something. When you internalize your goal, the work must be done to complete it. It goes against the social pressure idea of sharing goals – watch this great TED talk on the topic and give it a whirl.
Stay consistent by considering other times of day to workout
The dark mornings and short days can make it harder to get up in the morning or get going in the evening. Consider switching your run, walk, or workout to the middle of the day or during your lunch hour. Instead of feeling guilty or sluggish for missing a morning workout, be proactive and choose to a time you can stick with in any winter weather.
Bite the bullet, get the gear, and be a year-round cyclist
Some people probably couldn't imagine biking through the winter, but with the right gear and good lighting you never miss going outside year-round. Come January, it's pretty easy to feel like you haven't been outside in months. If you bike to work, you get fresh air and exercise everyday of the year!
Try a nighttime run through the forest with friends
Get creative with your workouts. Depending on snow levels you may be lucky enough to do some winter trail runs. If you layer well, grab a good headlamp and find an adventurous friend, there is something special about splashing through the forest in the rain (for those folks on the West Coast especially). You keep fit and do something worth talking about!
Try a new sport this winter
Tired of a stuffy gym or treadmill running? Why not try something new. Grab a yoga pass, get adult swimming lessons, or try snowshoeing or cross-country skiing. We are blessed with options in Canada so take the plunge and try something new. Your body and mind will thank you.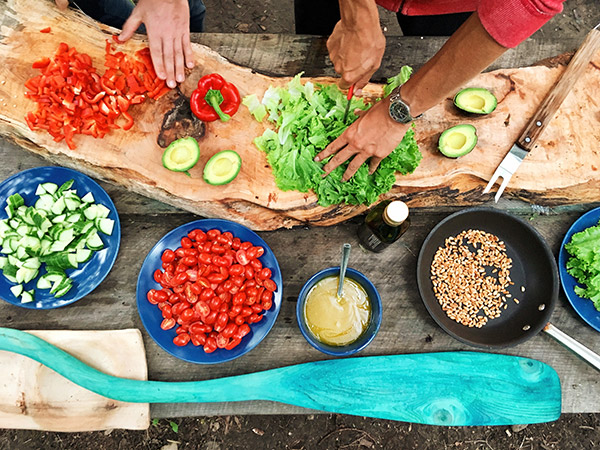 Experiment with different foods on the weekend
Sometimes the weather is going to keep you inside. Why not use that extra time to prepare delicious weekly meals with the ones you love! It's also a great time to update your Laid Back Snacks (formerly known as Naked Snacks) subscription and try something new. If you usually go spicy, try sweet like Maple Praline Almonds or Sweet Sriracha Crunch for a sweet-spicy combo. Fruit lover? Try a trail-mix style snack like Tuscan Road Trip.
Focus on getting great sleep
This fall and winter season lends itself to cozy evenings at home. Instead of snuggling up with your screens this year, consider creating a Hygge environment (think dim lights, candles, and a clean house) and digging into a great novel. Good sleep keeps you healthy during flu season, help you keep weight off, and aid in muscle recovery.
Don't forget the snacks! Laid Back Snacks (formerly known as Naked Snacks) make great pre or post-workout fuel and are perfect for curing hunger pangs on-the-go, no matter the season. Order a box of 10 snacks and stock up before the snow hits! (Because yep, that's coming too.)