Thanks to you, our wonderful customers, 2022 was a great year for us here at Laid Back Snacks. From launching delicious new snacks, to being certified by some of the most reputable organizations in the sustainability space, here's a highlight reel of eight milestones (one for each year we've been in business!) we're proud to reflect on, celebrate, and share!
1. Launched Two New Snacks
In March we launched two new snacks: Natyo Nacho Cashews and Nutless Yogi.
Nutless Yogi: we took one of your all-time favourite snacks (Wholesome Yogi) and subbed the nuts for crunchy chickpeas for a nutless snack that you'll want to bring everywhere with ya. This is your go-to lunchbox snack for those busy meal prep days!
Natyo Nacho Cashews – Cashews are rich in unsaturated fats, a source of fiber, and are an excellent source of plant based protein. These roasted cashews have been seasoned with a cheesy, flavourful blend of tomato, garlic, paprika and more.
Browse all 30+ of our healthy snacks here.
2. Expanded Our Production Facilities
To keep up with customer demand and our company's growing needs (aka. MORE SNACKS!) we moved into a new production facility 2x the size of our previous one. Our official headquarters and new production facilities are now based out of Cloverdale, British Columbia.
3. Inclusion in the Fall Jilly Box
The Fall 2022 edition of The Jilly Box included a bag of C'mon Cinnamon. Here's what Jillian Harris had to say about it in her Official Fall 2022 Jilly Box Reveal:
"The perfect snack DOES exist and it's the C'mon Cinnamon pack from Laid Back Snacks! If you know me, you know just how much I LOVE Laid Back Snacks. The C'mon Cinnamon pack in particular is vegan, and high in both fibre AND protein! It's the perfect mix of salty and sweet and includes dry roasted cashews, almonds, and pecans!"
4. Launched our Corporate Gift Box Program
With the rise of remote work options, corporate gifting is a great way to keep virtual employees connected, to stay in touch with clients, or as a physical touchpoint for virtual events and meetings. In October, we officially launched our Corporate Gift Box Program where you can order multiple boxes of 6- or 10-packs of snacks for a group of recipients. The recipient can pick their own customized box of snacks via a private coupon link, and have the gift box shipped directly to them.
Find out more about why you should send employee snacks here.
5. B Corp and Climate Neutral Certifications
In the fall, Laid Back Snacks received our B Corp certification. This means we're officially recognized as a Benefit Corporation; creating impact in the business world beyond the bottom line – our business also creates social and environmental benefits for the communities we serve. In addition to B Corp, we maintained our Climate Neutral Certification for the second year in a row. This means our operations are fully carbon neutral, or net zero. These are two of the most reputable organizations in sustainability, and we are thrilled to be recognized for our values in being an environmentally and socially responsible business.
Learn more about our sustainable practices here.
6. New Mini Snack Format
Listening to the feedback from our customers, we've repacked our mini snacks from stand-up pouches into convenient 'pillow pouches'; little snack packs that are easy to pocket as you munch on the go. These are only available in retail locations – not online – so look out for 'em the next time you are grocery shopping!
7. Retail Partnerships with Home Depot & M&M Market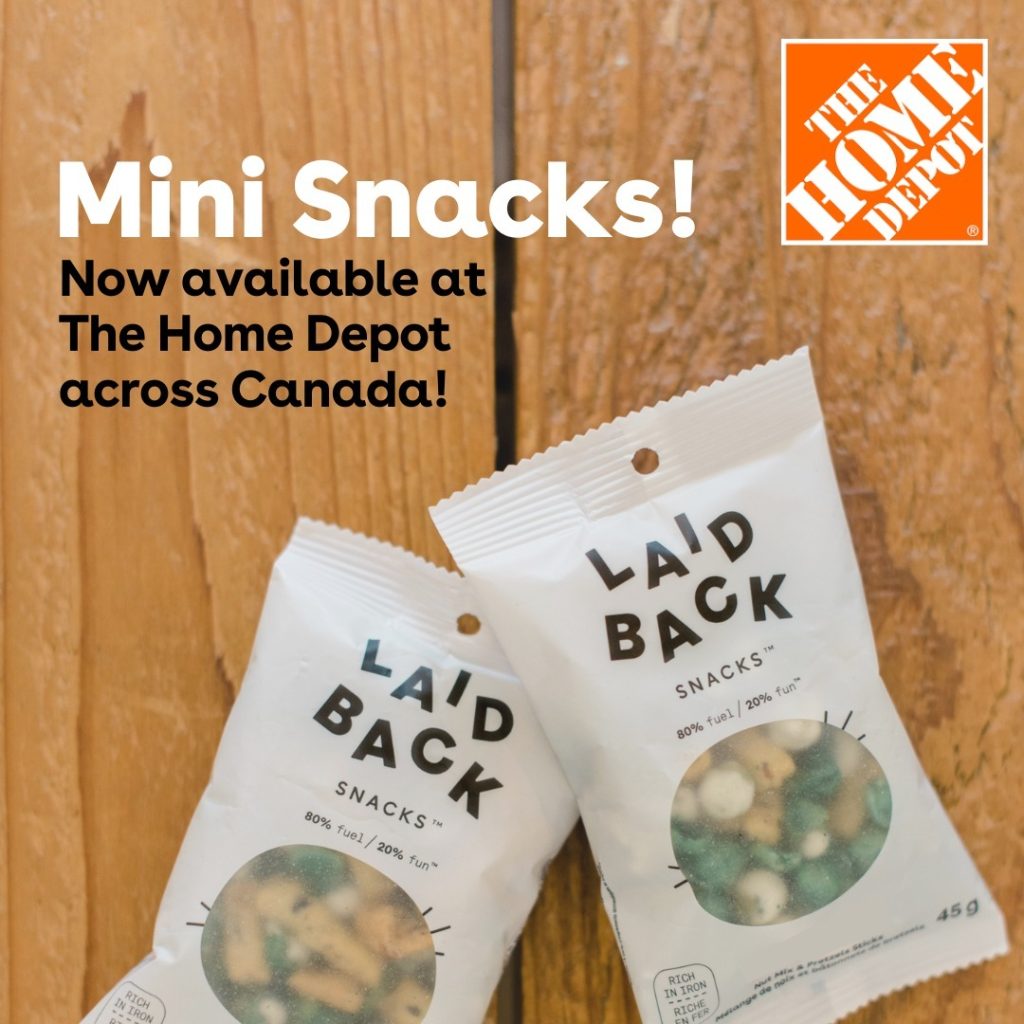 As of November, Laid Back Snacks is now available nationwide through retail partnerships with Home Depot and M&M Market. We also have a few new national retailers lined for next year – more info coming soon! 😉
8. 20,000 Snacks Donated to Breakfast Club of Canada
Finally, as part of our ongoing mandate to give back to our community, we continued to donate the equivalent of one snack from every box of Laid Back Snacks sold, in support of Breakfast Club of Canada. On Giving Tuesday, we even doubled our donation on all boxes sold that day. To date, we've donated ~20,000 snacks to Breakfast Club of Canada and will continue to do so next year.
—
Thank you to each and every one of you for making our year so exciting. Enjoy the rest of 2022 and we look forward to fueling our community with healthy, happy snacks in 2023.