Ever wondered how to build connection with your people when you're not working together in the office every day? Ever wondered how to effectively connect with your clients when you see them so rarely? We did too. And that's why we developed our Corporate Gift Box program. Tada!
Why send employee snacks?
The benefits include boosting employee morale, motivation, and productivity with an appreciative gift to show the recipient they matter. In a recent survey conducted among 300 corporate gift buyers, over 80% of respondents said gifts have improved relationships with employees and/or clients. With the rise of remote work options, corporate gifting is a great way to keep virtual employees connected, to stay in touch with clients, or as a physical touchpoint for virtual events and meetings.


Still not convinced? In the same survey, these were listed as the top five advantages of corporate gifting, as indicated by respondents who 'benefited substantially' from the below:
Improved relationships with clients and/or employees
Making the recipient feel valued
Improved employee productivity
Improved customer loyalty
Improved employee retention
The rise of remote working over the last few years has increased the need for staying connected, in turn increasing the relevance of corporate gifting.
But why snacks?
When it comes to employee appreciation treats, it can be challenging to find a 'one size fits all' gift for a diverse group of people with different tastes and dietary restrictions.

Snacks are synonymous with workplace wellness and culture. At Laid Back Snacks, we offer premium snacks packed with real ingredients that are healthy and energizing with zero compromise on great taste.
Say "heck no!" to sugar crashes and "heck, yah!" to productivity.
It can be even more challenging coordinating packing, mailing information, and delivery. With our corporate gift boxes, your gift recipient customizes their snack box by choosing their own snacks, from a diverse variety of over 30 snacks, and we handle fulfillment and delivery for you.
Some of our most-loved snacks include:
Hearty Tamari – Sesame sticks and spicy pretzels mixed with almonds and cashews, all lovingly slow roasted in delicious Tamari.
Wholesome Yogi – A mix of heart healthy nuts, well balanced with nutritious pumpkin seeds, flavour-filled cranberries, and topped with Greek yogurt chips to help support healthy digestion.
Maple Praline Almonds – Superior grade California almonds and the finest maple syrup from Quebec are tossed together as our salute to the Great White North.
So, how does it work?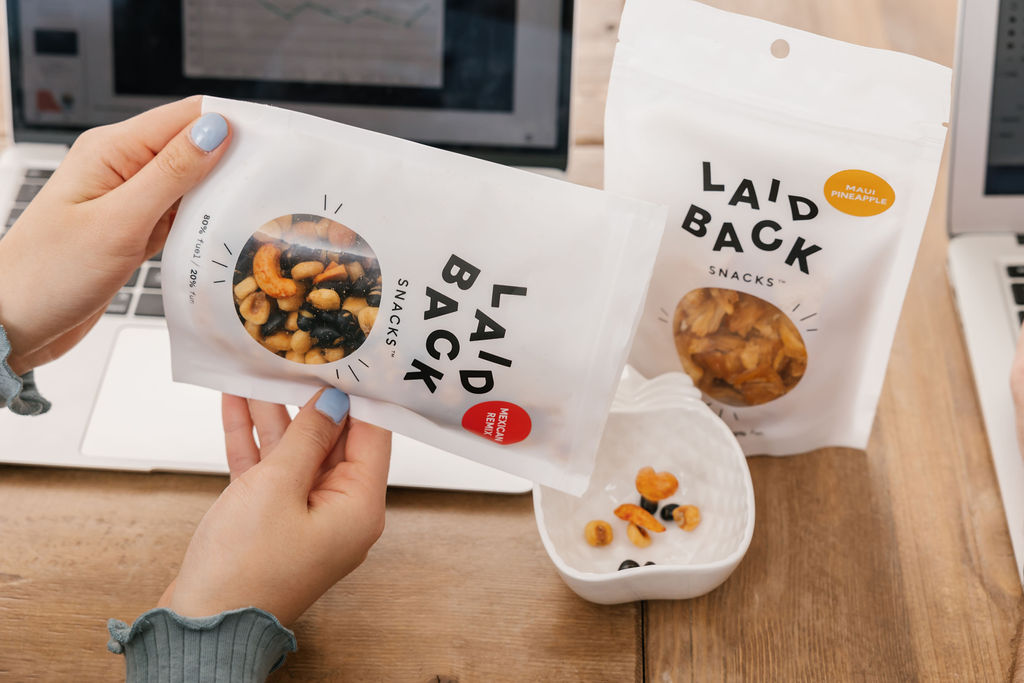 We make the process as simple as possible for corporate gift buyers like you.
You make a bulk corporate order online: Choose the gift box size (6 or 10 snacks per box) and number of recipients, and upload a list of their email addresses. Then checkout and you're done!.
Your recipients receive the gift of choice: Your lucky recipients will be sent a unique code and personalized message to redeem a free snack box online from laidbacksnacks.com. Each recipient can build their own custom gift box from a choice of 30+ snacks.
Leave shipping and fulfillment up to us: When your recipients redeem their code online for a free gift box of Laid Back Snacks, they each place their individual orders directly from our website. There's no need for you to coordinate mailing addresses, handle physical snacks, or deal with shipping. You can leave the fulfillment up to us!
When's the best time to send employee snacks?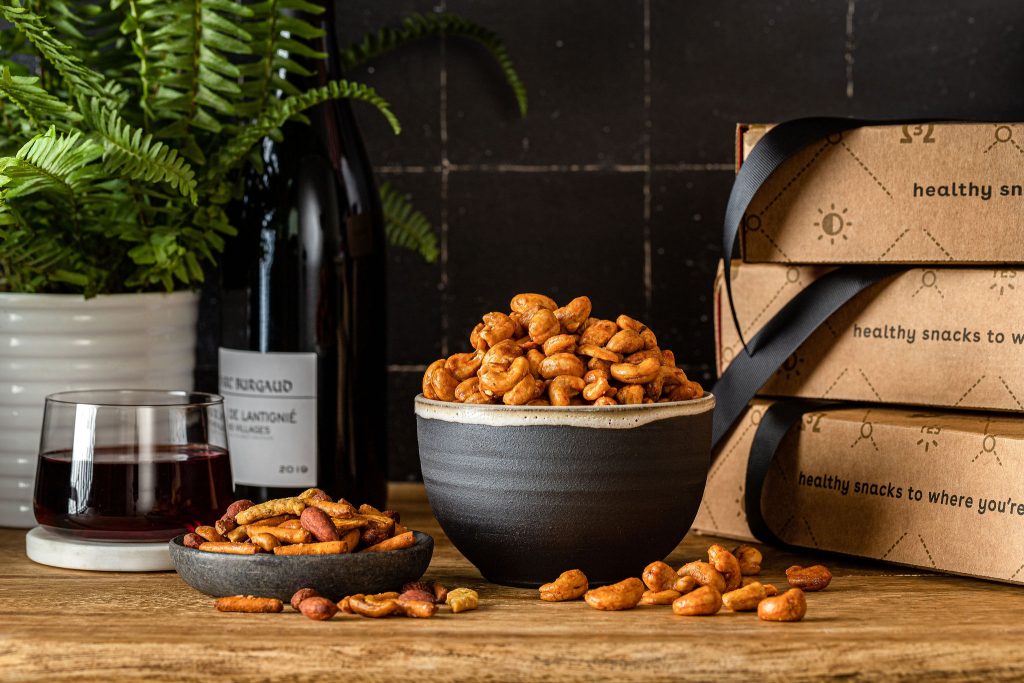 Now; now is the best time. The fun and flexibility of healthy snacks is that they can be appreciated in any season, any time of year, for any special occasion or no occasion at all.

Research shows that corporate gift giving is no longer confined to any one part of the year. Just under two-thirds of respondents in that same survey cited giving corporate gifts to appreciate an employee or for celebrating a team milestone, a higher proportion than reported that they gave gifts for the holidays.

As long as you – as the corporate gift buyer – would like to make a one-to-many bulk order of gift boxes (think: team milestones, employee appreciation, to show clients you're thinking about them, for virtual events) then you can send Laid Back Snacks at any time of year.

As a snack company, we've seen that happy, healthy people do amazing things. Create real connections with your remote teams, clients, and partners, and let Laid Back Snacks help with that.

Click here to start your corporate gift box snack order.