At Laid Back Snacks (formerly known as Naked Snacks) we work hard to make sure we offer so much more than just convenience. Our products are also designed to be extremely versatile. We love reinventing our flavours into easy and nourishing recipes to suit any busy lifestyle. At the moment, our kitchen is completely fawning over these incredible High Energy Yogi Balls!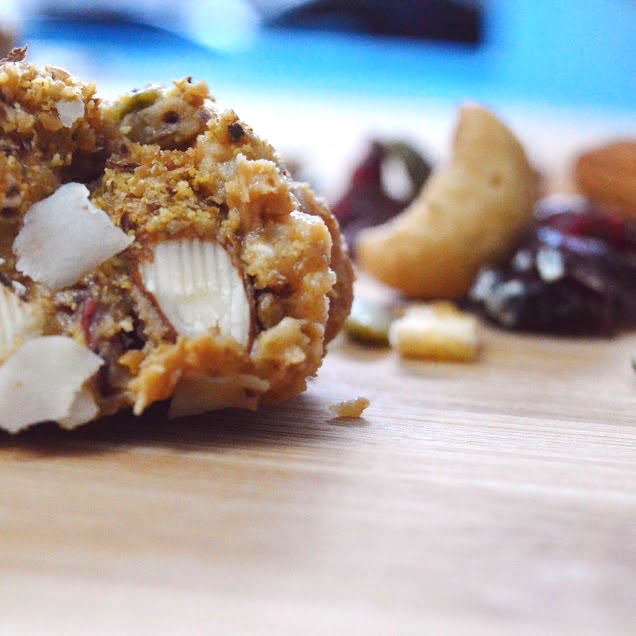 With no actual baking required, these Yogi Balls are super easy to whip up on a Sunday night to prep for the busy week ahead. Use as a snack to grab-and-go or as a pre-workout energy boost, we promise they'll satisfy any sweet tooth craving. Plus they're filled with just 4 simple ingredients that are readily available in your pantry.
Ingredients:
1 cup – Dry oatmeal (We use old-fashioned organic oats)
2/3 cup – Wholesome Yogi
½ cup – Peanut Butter or Almond Butter
2 TBSP – Flaxseeds
Directions:
(Prep time: 10 minutes)
1: Mix all the ingredients in a medium bowl so they are well distributed
2: Cover and let chill in the refrigerator for half an hour
3: Once chilled, roll into apricot-sized balls and voila! A perfect snack for any occasion.
These Yogi Balls can be stored in an airtight container and kept in the fridge up to a week for your snacking pleasure.
Feel free to mix up the Laid Back Snacks (formerly known as Naked Snacks) goodness, as Tuscan Road Trip or 3 PM Goji would be equally as delish.
Planning on making our High Energy Yogi Balls? Tag Laid Back Snacks Instagram to show us how they or other recipes have turned out, we'd love to see your culinary creations. Bon appetite!