Though our unique snack flavours definitely get the most attention from customers, our boxes and bags come in a close second. We deliver your Laid Back Snacks in a fun and durable box that can easily be reused many times over. Our snack bags have a window which allows anyone to quickly see what's inside. In fact, we're always asked about ways to reinvent or reuse them. So in honour of Earth Day, we've got some suggestions to sustainably reuse and upcycle your next delivery!
Let's start with our boxes.
Dishware Box
Are you planning to move or need to store dishware outside of the kitchen? Our 20 snack box have proven over time that it can hold a variety of delicate cups, plates and cutlery. Best of all, this box has tall sides which makes it great if you want to stack plates or have cups sitting on their base!
Another sustainable bonus: our boxes don't require tape!
Clothing Box 
In Canada, we have 4 distinct seasons which means a lot of clothes. Instead of shoving clothes in a closet, you can organize your scarves, tank tops and clothes into our 5, 10 and 20 snack boxes! We recommend folding clothes and accessories (ex. socks) the KonMari Fold or roll them up so they fit snugly.
Random Box
Almost every home or office has a random junk drawer of some sort. If you're like us and have been meaning to empty it but don't want to throw away those odds and ends, then what about storing them in your Laid Back Snacks box? This way you can pack everything away neatly while freeing up some precious storage space.
Homemade Gift Box
Save on extra packaging from the store and present your gift in a homemade gift box. It already has the shape you need, plus adds a personal touch that goes a long way in showing the recipient how much you care. Try taking wrapping paper, leftover fabric scraps, or make a collage using old pictures that capture your favourite memories together. This also makes a great activity for the kids, so get the whole family involved!
Personal Storage Stack
Speaking of reupholstering, why not make a Personal Storage Stack for yourself? Once you have a few Naked Snacks orders coming through you'll be able to create a stackable feature that's both functional and fabulous. Using a hot glue gun and get playful with patterns by mixing and matching polka dots, stripes, and chevron print in the same colour scheme. Then store all your photo albums, books, and magazines that need a new resting place.
Crafts Project for the kids
Laid Back Snacks (formerly known as Naked Snacks) boxes can become instant craft projects for your kids. Break the box apart and use the cardboard for anything from masks to birdhouses. There is no limit to your imagination. One customer told us that his kids think the boxes make a great toboggan for sliding down the hill on. Disclaimer: We take no responsibility for any injuries caused from the crafty use of our boxes 😉
Snack Bags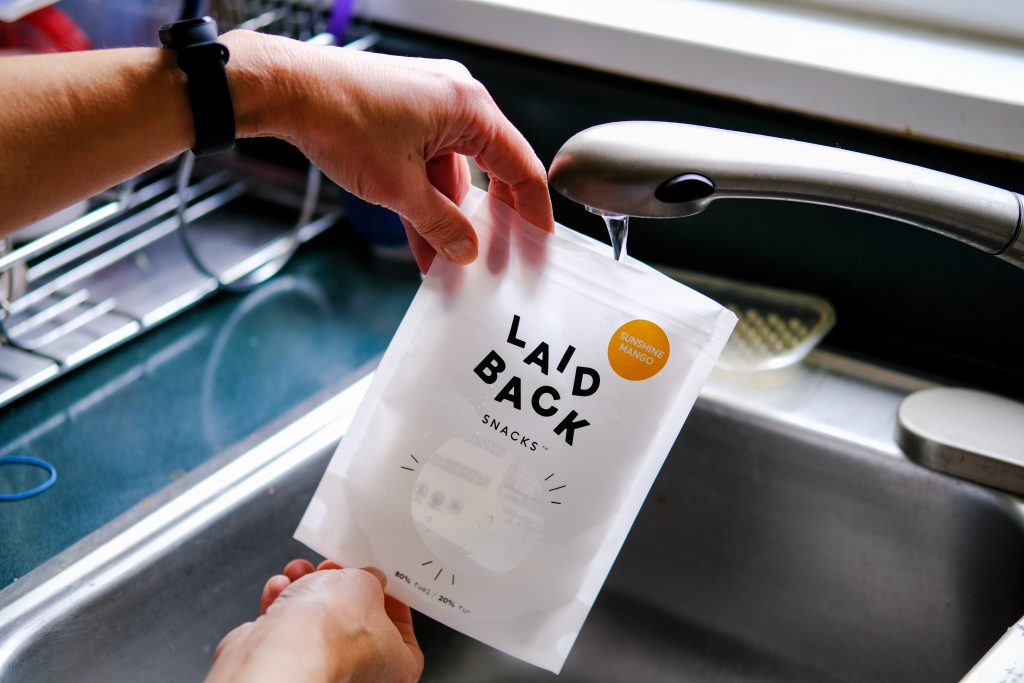 Our snacks bags have two great features, a window and a resealable zip. So you can see and keep items inside safe and dry.
After you finish snacking on Laid Back Snacks, just give it a quick wash and air dry it upside. There you have it, a bag to hold anything you need.
If you're traveling, our snack bags are perfect to store foldable slippers, eye masks, lip balm, hand sanitizer and masks that you need for a comfy flight.
Have kids? These bags can hold clean socks (for those rainy recess days!), crayons, a first aid kit or anything that is essential for their safety and happiness.
How do I recycle Laid Back Snacks bags?
Our bags are made of #4 LDPE recyclable material and to keep the planet happy, head to your nearest recycling center or London Drugs (if you're located in BC) to recycle it.
Happy Earth Day to everyone!
How would you reinvent the Laid Back Snacks box? Tag
@laidbacksnacks on Instagram with your upcycled ideas!