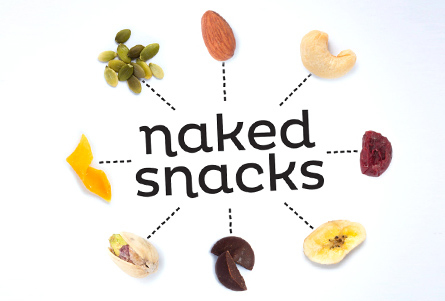 Canada is awash with food that's scientifically proven to taste amazing, but does nothing to help the body. And if the food we eat isn't helping our bodies, then you can bet it's hurting it.
I started Naked Snacks to help three wonderful people in my life with this exact issue. Chances are you have at least one of these people in your life too. In fact, you may even be one of them!
1. The High Performer
My lovely girlfriend's name is Ryley. She's well read on healthy living and knows the difference that wholesome food makes in her life.
Ryley believes that what she puts into her body is what she gets out of it. Whether it's to help her mind stay focussed at work, or to fuel her body for after-work yoga class. Ryley wants food that's nutritious, delicious, and helps her perform at her awesome best!
Convenience is important to Ryley, but vending machines and coffee shop snacks don't leave her feeling good about her choices. Door-to-door snack delivery makes it so easy for Ryley to have a trusted source of nutritionally balanced food on hand for both work and play. Re-sealable bags mean she can grab and go as she pleases, and each bag contains more than four portions of delicious goodness.
Ryley works hard and deserves to treat herself to some well-earned indulgence. She enjoys the anticipation of knowing that her box is on the way and when it arrives, it's going to be jam packed with special goodies just for her. Besides, gifts shouldn't be just for Christmas and birthdays!
2. The Super Mom
The second important person is my sister-in-law, Marianne. She's a soldier in every sense of the world. Marianne is a full-time Major in the army and also takes care of my two nephews like a champ. My brother travels for work most days of the week, so for day-to-day decisions concerning the kids, Marianne is the CEO of the household.
Food is a big deal in Marianne's home. She's on guard 24-7 for anything overloaded with salt, sugar or unnecessary additives. The cheeky kids are drawn to modified foods like zombies to the guy with the broken leg. Marianne has to watch everything those kids eat to make sure it's helping their growing bodies.
Naked Snacks means Marianne has a trusted supply of healthy snacks for the family whenever they need it. Kids want variety and that's what we're about. We have around 30 different snacks to choose from and aim to bump that up to over 50 in the coming months.
Marianne shops online whenever she can to save herself time, and subscription delivery means ultimate convenience. A healthy supply of snacks delivered each month for the family without needing to think about it!
3. The Healthy Food Slacker
And then there's me. I'm the one in this story who really needs help! I know that eating the right food can be a real game changer, but like a lot of guys I have a 'see food diet': when I'm hungry, I'll eat whatever I can see.
I need healthy eating to be dummy proof, which is why subscription works so well for me too. Every month I know I'll have a stash of the good stuff, ready to go.
I also need information on what I'm eating and how to get the most from my food. That's what the Naked Snacks media team does every day: gives me and everyone in our good health and wellness community information about the benefits we get from making smarter choices.
Healthy snacking is an essential part of a balanced lifestyle. Naked Snacks makes it easy to find that balance, whether you're a High Performer, Super Mom, or Healthy Food Slacker.
Finding that balance is also where our unique 80/20 nutritional philosophy comes in: 80% whole grown goodness straight from the source, 20% earned indulgence as a reward for making smart decisions.
Oh, and we're not just about awesome food. Our company is 100% proudly Canadian and we believe that businesses should be doing more to build healthy communities in Canada. That's why we're donating a portion of our proceeds to support feeding Canadian children in need. We're working hard to make sure every box we deliver not only makes a difference to the person who receives it, but also in the life of someone who really needs a helping hand.
Thanks for stopping by, and happy snacking!
– Neil, Founder of Naked Snacks