Increase your energy and save some money by packing these three nutrient-rich and satisfying lunches with you to school or work! And don't forget to include snacks, such as a piece of fruit, or a handful of trail-mix from Laid Back Snacks (formerly known as Naked Snacks) in your brown lunch bag.
Minestrone
Hearty and flavourful, this is the ultimate comfort food on a cold day.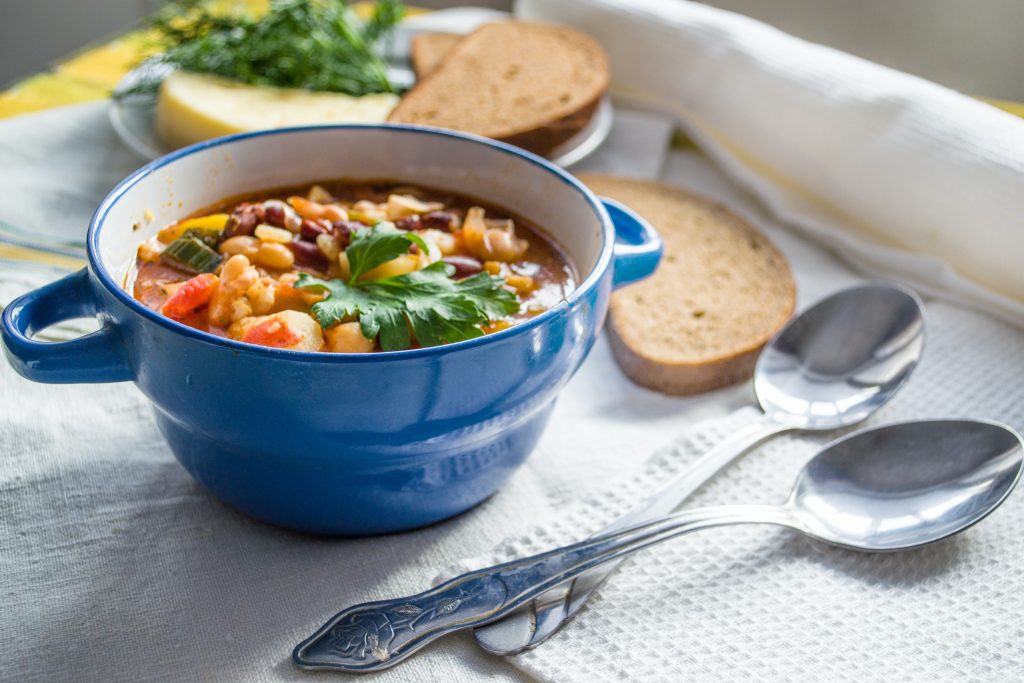 Ingredients:
1 tbsp. oil
1 large finely chopped onion
Salt and pepper
2 cloves of finely chopped garlic
8 ounces of red potatoes cut into small slices
4 cups low-sodium vegetable broth
1 small zucchini cut into small pieces
1 yellow squash cut into small pieces
1 small carrot thinly sliced
1/2 cup of peas
1/4 cup of grated Parmesan
1 cup fresh basil roughly chopped
Directions:
Heat the oil in a large saucepan on medium heat. Add the onion and season with salt pepper. Cover and cook for 8 minutes, stirring occasionally.
Stir in garlic and cook for 1 minute. Add in potatoes and broth and let simmer for 5 minutes. Add zucchini, squash, and carrot and let simmer for additional 3 minutes.
Add in peas and let simmer for 2 to 3 minutes to let veggies tender.
Sprinkle with grated cheese and fresh basil.
Caprese Salad
This gourmet Italian salad is packed with protein.
Ingredients:
2 large tomatoes
8 ounces mozzarella
Salt and pepper
Extra virgin olive oil
Balsamic vinegar
Fresh basil
Directions:
Slice the tomatoes and mozzarella into discs.
Place the mozzarella slices on top of the tomatoes.
Season lightly with salt and pepper.
Place basil leaves on top and drizzle with olive oil and vinegar.
Serve with crust bread.
Pumpkin Trail Mix Granola Bars
Healthy and portable, these granola bars are great to make ahead of time for a quick snack at lunch.
Ingredients:
4 cups old-fashioned rolled oats
1/2 cup unsweetened shredded coconut
1/2 cup pumpkin seeds
1/4 cup chopped pecans
1/2 cup golden raisins
1/2 cup semisweet chocolate chips
1 tablespoon wheat germ
1-1/2 teaspoons pumpkin pie spice*
1/2 teaspoon salt
1/2 cup coconut sugar
3/4 cup pumpkin puree
1/2 cup honey
2 large eggs
1 tablespoon coconut oil
2 teaspoons vanilla extract
Directions:
Preheat oven to 325F. Line a 13×9 baking pan with parchment paper and lightly grease.
Use a large bowl to combine oats, coconut, pumpkin seeds, pecans, raisins, chocolate, wheat germ, spice, salt, and sugar. Whisk pumpkin, honey, eggs, oil, and vanilla in a medium bowl until smooth.
Combine ingredients from both bowls and stir until moistened.
Pat mixture evenly into baking pan. Bake for 35 to 40 minutes or until golden brown and firm. Lift granola bars out of pan and onto a cooling rack. Let cool completely before slicing into bars and storing for lunch.
Bonne appetit!