With the official start of spring behind us and summer just around the corner, it's time to start thinking about getting back outside – and we're not just talking about the garden.
Spring is the perfect time to swap the gym for a dose of fresh air without fighting icy roads or sweltering sidewalks. Exercising outside also has a number of added benefits that you just won't get within the walls of a 24/7 fitness centre.
Take advantage of these five benefits by lacing up, stretching out and moving your workout to the great outdoors.
Free and flexible
Fitness and physio consultant, Dave Carter, from Vancouver's Physio Room believes that your nearest park is the perfect place for exercising. "It's important to think creatively about using the equipment that's available to you," he says. Dave recommends dropping your mat on a lush patch of grass for a yoga practice that won't cost you a dime. You could also find a friendly park bench for some tricep dips, or pushups. Fancy some full-body HIIT (high intensity interval training) instead? No problem. Your nearest set of stairs is ideal for an easy breezy sprinting session.
Fun in the sun
Vitamin D is essential to maintaining good health, particularly after a long Canadian winter. Time in the sunshine can be linked to a number of major health benefits including lower blood pressure and a decreased risk of cancer. Top up your levels of the sunshine vitamin by taking your workout outside for some regular sun exposure. Whether you choose biking or walking, safe sun exposure can be excellent for the body. Need ideas for what to do once you're out there? Our friends at TripOutside have put together an awesome list of 62 ways to get active in the great outdoors. 
Boost your mood
Not only is the fresh air… well, refreshing, studies have shown that exercising in the great outdoors directly reduces stress, restores mental fatigue and improves your mood. Vitamin D can even halve your risk of poor mental health. Some people will suffer from SAD (Seasonal Affective Disorder) this time of year, which is a type of depression that results from the changing seasons. One of the common treatments for SAD is exposure to sunshine. Hard to argue with those benefits!
Tough it out
Feel like that trail run had you beat? It's no surprise. The added air resistance of running outdoors increases the amount of energy you expend compared to a treadmill in the gym. It's a tougher run, but a much better workout! Your fitness levels will improve considerably more than if you'd run the same distance on the treadmill.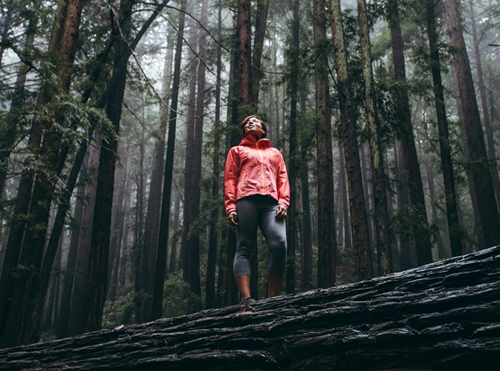 Double duty
How many gyms double as a scenic picnic spot or epic adventure? Taking your fitness activity outside is a great way to explore nature, get to know where you live, or experience something new. Instead of rushing from work to gym to home and grabbing a quick snack along the way, why not make an event of it? Do a little shopping beforehand and pack a bag full of your favourite picnic food. Just make sure you don't forget the energy-packed snacks!
Working out with friends? Be sure to bring enough for everyone. Choose our Shared Snacking box of 10 delicious, clean-eating snacks. You'll even save a few bucks while you're at it!
Top Photo Credit: @camillia_lee, @whumphry