Need new recipe ideas to surprise your mother or your wife for Mother's Day 2021? Show your love with these two delicious brunch recipes that use your Mother's Day gift box! Bringing her a homemade breakfast in bed, or treating her to a sumptuous brunch board is a surefire way to make her happy.
Waffles Brunch Board
Even if you can't go out for brunch, enjoy brunch at home with this DIY brunch board! Waffles and chocolate provide a decadent treat, while fresh fruit and nuts add a punch of nutrition. Hint: this would also be perfect for a picnic outside to enjoy the sunny weather.
You will need:
Waffles (store-bought or homemade!)
Strawberries
Blackberries
Chocolate of choice
Instructions:
Lay everything nicely on the board before your momma wakes up
Serve it with her favourite coffee and/or some bubbles (highly recommended!)
If you want to get more creative, heat up the chocolate in the microwave until it melts, and dip the waffles for a decadent treat!
---
Yogurt Bowl with Goji Granola
Surprise your mom with some breakfast in bed! Crunchy granola and fresh seasonal fruits atop a bed of yoghurt is a healthy (and delicious) way to wake up.
You will need:
Yogurt of choice (dairy-free or regular works!)
Your favourite fruits (we used strawberries, orange slices and pomegranates)
Optional: maple syrup for extra sweetness
Instructions:
Add your yogurt of choice to the bowl, top it with Laid Back Snacks Goji Granola.
Add your favourite toppings! Don't forget to have fun with it 🙂 We are obsessed with fresh fruits, so we did orange slices + strawberries + pomegranates combo.
You can also drizzle some maple syrup, peanut/almond butter and hemp seeds on top for an extra kick to your yoghurt bowl.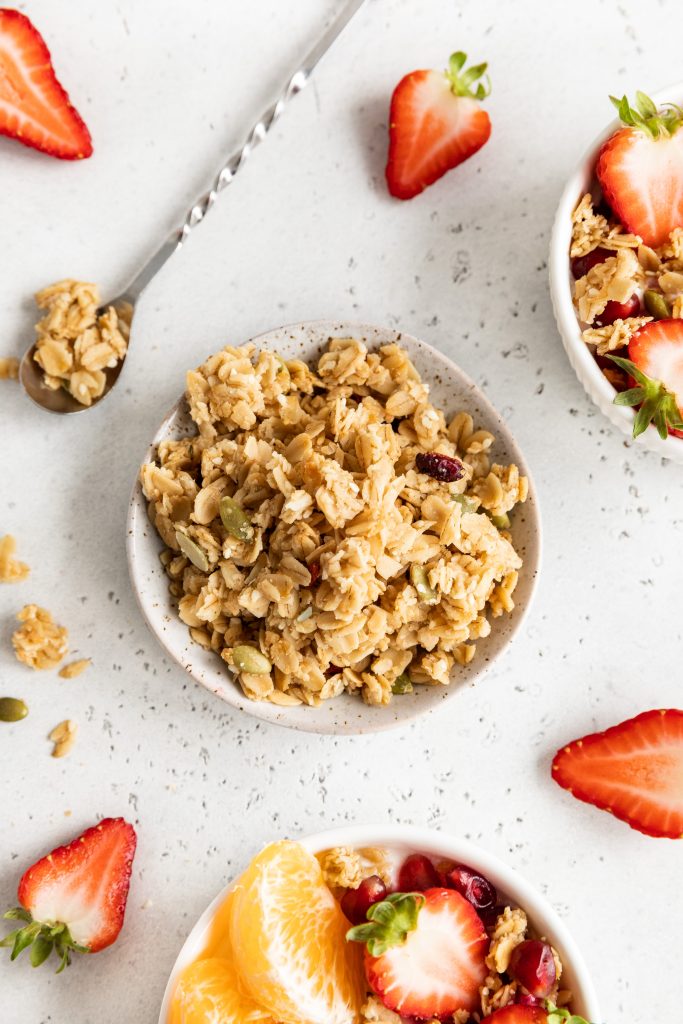 Recipes and photos by Erb and Spice
P.S. Need more unique gift ideas for Mother's Day other than just flowers? Try our new Mother's Day gift box! We've partnered with So Luxury and Canvas Candle Co. to bring you two boxes that will be a perfect present for the most important lady in your life. Treat her to a box of relaxation today.